With rising complaints about damage and misplaced liability in the rental world, Drivalia has created a little FAQ for customers to read BEFORE receiving their hire van.
1. Taking photographs of your hire van is a must
When hiring a van and checking it over, you should take photographs of (or even videotape*) the exterior, interior and underneath of the vehicle.
Some van hire companies fail to correctly document the condition of their vans when handing over to the next customer, so you must record every scratch, dent, ding and mark you can see.
Don't worry about wasting the staff's time, it is important, and they will understand you are serious about keeping the van in perfect condition.
If you notice anything the worker does not mark down on his check sheet, ask to involve another staff member to complete your check-out or for a different van (where available).
We suggest you photograph both sides of the van, the bonnet, windscreen, back door/boot, tyres, and inside the loading area.
Note: If you're at a branch with poor lighting, ask to drive the van somewhere nearby (a petrol station, for example) to conduct your visual inspection.
Do not drive the van away to check over the van at a later time; this could highly affect your liability for any unrecorded damage done before your return time/date.
*If you are videotaping, hold the camera steady, and make sure it's set to the highest resolution.
If you're shooting still images and have the option to timestamp the photos, make sure that function is activated on your camera.
We recommend you keep hold of these images for at least 6 months after your rental finishes in case of a damage case being filed against you that you wish to dispute.
Our staff will also have photographs of the van and any damage but it is helpful to have your own from before your hire began. After that, feel free to delete these files.
We will give you a copy of the check sheet for you to sign and every opportunity for you to contest any damage we have noted (or add any we may have missed).
Don't, under any circumstances, leave without a copy of the signed form.
Note: Don't feel embarrassed to ask our staff members to teach you how to use a van if you are unfamiliar with it. It is better to ask how to use keyless start than find yourself locked out of your hire van the next morning(!)

You will be shown a flat lay (pictured above) of the vehicle where the driver will mark any dents, cracks, scratches, etc. that are already present.
2. What if I see a Ding, Dent or Crack?
If you spot a scratch or dent while you're photographing the vehicle, tell a member of our staff. You will either need to document the damage in writing or ask for a different vehicle.
Don't let anyone tell you that a dent or scratch "the size of a golf ball or smaller" doesn't count.
Everything counts. Don't feel like you may be being picky, because you could be held accountable for those dents later on.
Also, scratches and other imperfections are difficult to see when the van isn't clean. If you need to take a dirty vehicle, be extra vigilant about noting the damage on your form. Again, make sure our staff signs off on it.
Other flaws to look out for:
Van appears unsafe to drive (balding tyres, lights don't work).
The registration plate does not match up to the reg on the form you signed.
No items lefts in the van from previous hire (wallet, keys, mobile phones, etc.)
Chipped windshield. You should have zero tolerance for anything irregular on the front or back windshield.
Upon driving off, don't be afraid to return if you feel the van is not driving properly.
We want to know about any problems with the van during your hire so please don't hesitate to contact the branch you drove away from as soon as you spot/notice anything unusual.
It is in our best interests to protect the integrity of our vans, prevent breakdowns and help get you on your way.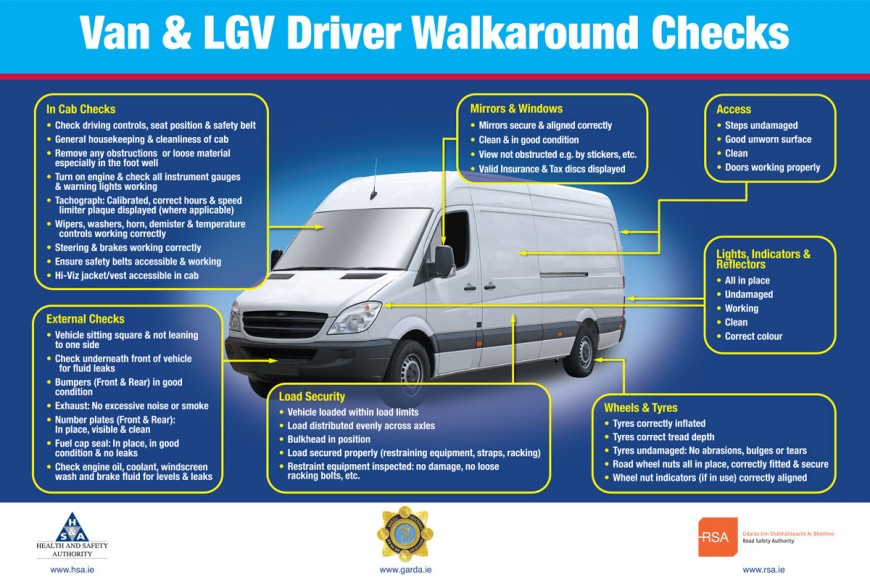 3. Fully Cover Yourself
Insurance cover, especially in van rentals, is a big talking point and most people perceive it as a means for van rental companies to charge extra.
This is not true when a customer is given the option and all the information right from the start – before they even book.
When you book on our website, you have the standard deposit to pay, but we offer reduced insurance excess packages at the counter.
The most common damages we see with van rentals are windscreen chips and cracks which can cost up to £1000 so make sure to ask for windscreen cover at the rental counter.
It is important to note that there are industry standard exclusions to van insurance in that all undercarriage and anything above the windscreen height (roof) is the drivers' full responsibility.
A good tip to remember is always to check the height of the entrance/car park/bridge you are driving under before attempting it.
4. What to Do When Dropping Your Van Off?
Before you leave the airport or branch, you'll have to go through a check with a Drivalia employee. This last check is yet another opportunity to make sure your van is what it should be.
Don't be shy about getting out of the van, walking around it, and mentioning to the employee if something looks wrong.
Remember, this is your last chance to clear up any misconceptions before it gets officially documented.
Note: If you are dropping your van off out of normal operating hours, different rules apply.
You are liable for the van until the next business day begins (06:00 AM) so please be sure to check the condition of the van thoroughly before you leave it.
This will be explained to you in the branch, but if you have any doubts, please contact us on our free phone number.

Click on the BVRLA logo for more information.